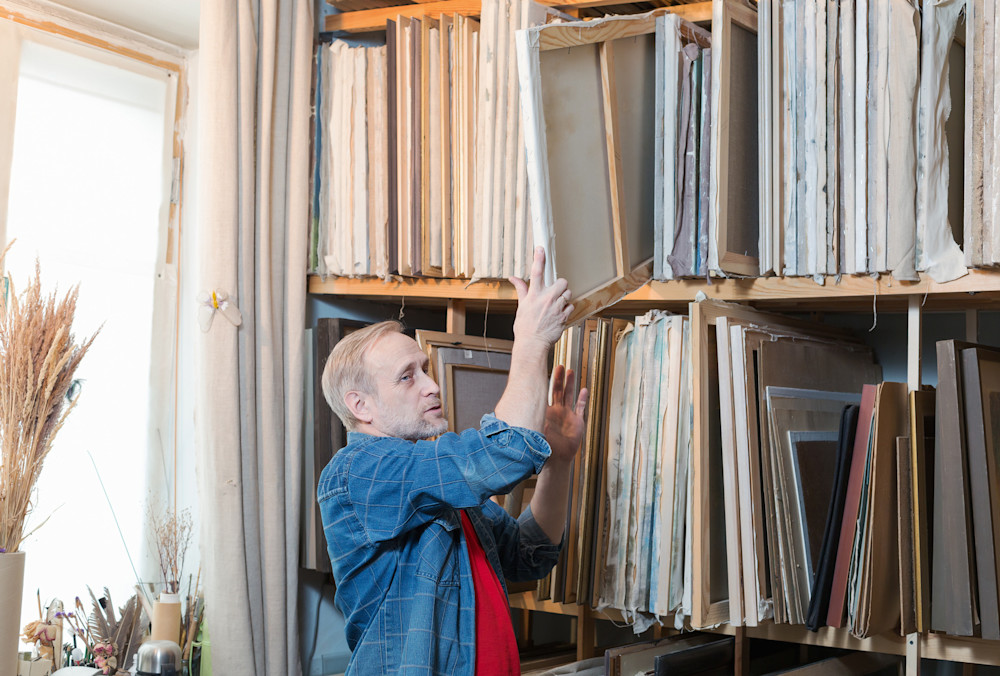 Can artists living outside of the United States apply?
~Yes. We do exhibit international artists, however, due to shipping logistics, the application process is more selective for artists living outside of the United States. When a work is purchased, our international artists must professionally package and ship the art themselves. If you have experience shipping, internationally we encourage you to apply.
What does the application entail?
~The application is a simple, four-step process that takes about 15 minutes. The first two pages are for your contact information and artistic background. The third page asks that you upload at least five (and up to ten) sample images of your artwork. The final page links to PayPal to pay the $5 application fee.
Why ask for my birthday on the application?
~We need to ensure that you are old enough to sell legally your work with us (and we like sending our artists birthday messages!).
What kind of artwork do you show?
~We exhibit art in every genre, style, size, and media (except video art). All work is vetted by our curators before going on display. Our goal is to offer clients a diverse selection of 2- and 3-dimensional art.
Do you offer printing services for photographers?
~We offer high-quality archival printing services to our photographers who work in digital format. We also handle the shipping of these prints.
How will you market my art?
~We promote our artists' work in some ways. We manage a large online advertising campaign, and we do a lot of search engine optimization. We have a very successful public relation strategy, a thriving email list, and an ever-expanding blog, Pinterest, Twitter, and Facebook following. Also, we maintain a physical presence at art fairs and our events. If you exhibit with us, you may be invited to show in one of our booths at an art fair or asked to participate in the national press. We are very hands-on with the select group of artists we represent.
What is your commission structure?
~Currently, our commission is 30%.
How long has Contemporary Art Gallery Online been in business?
~We opened our virtual doors in October 2001, and we just keep growing and growing. We sell art every day to clients around the world.
Where is Contemporary Art Gallery Online based?
~We have offices in New York City and San Francisco, although we are primarily a virtual gallery. Each year, we participate in art fairs and organize gatherings for our artists and clients.
How many artists does Contemporary Art Gallery Online represent?
~We currently represent 110 artists. Unlike most galleries, it is not quantity it is quality. Galleries simply cannot market numerous Artists effectively. Nor can your art be often seen. You simply get lost in the crowd.
If I exhibit my work at Contemporary Art Gallery Online, may I seek other gallery representation?
~Yes. We encourage you to pursue physical gallery representation while exhibiting on our site. This increases the exposure of your work as well as of our gallery.
How do I know when my artwork is sold? What do I do once it is sold?
Once your art is sold, you will receive an email notifying you of the sale. Three to five business days later, you will receive a custom art box and a pre-paid FedEx shipping label to send the work to the client. All you have to do is place your art in the box and drop it off at any FedEx location. You do not have to pay for the packaging or shipping.
When and how do I get paid for sold artwork?
~We send checks ten days after artwork is delivered to the client.
Who owns the rights to my artwork once it is sold?
~You retain the rights to your art after it is sold.
Can clients living outside of the United States purchase my art on Contemporary Art Gallery Online?
~Yes! We have many international customers.
What is Contemporary Art Gallery Online's return policy?
~We offer a seven-day money-back guarantee so clients can try out artwork in their homes. If a piece gets returned--less than 5% of artwork is--we will notify you and pay to have the piece shipped back to you. We ship all artwork in custom-built art boxes lined with high-density foam to ensure safe transit. In the rare case of damage, we work directly with FedEx to file a claim on your behalf. We insure every artwork we ship for its full value.
How do I submit more art if I am already exhibiting my work at Contemporary Art Gallery Online?
~It is easy. We do all the work for you. Upload your work through the Member Portal. We'll take care of the rest. Make sure your images are a minimum of 300 DPI.
Do I need to sign my artwork?
~All art should be signed (front or back – your preference). It is important in identifying you as the creator. Also, many collectors prefer to purchase signed artwork.
Does Contemporary Art Gallery Online sell framed artwork?
~We prefer to sell artwork unframed as our clients tend to like to frame their purchases themselves. That said, if you'd like to sell your art framed we are certainly willing to consider it.
May I place a link on my Contemporary Art Gallery Online portfolio page to my personal website?
~Currently, there is no option to link from Contemporary Art Gallery Online to your personal website.
Who should I contact with additional questions?
~Portia or Bob will be happy to assist you. Email them at talent@Contemporary Art Gallery Online.com.
What makes Contemporary Art Gallery Different from the other online galleries?
~CAGO is owned and operated by professional artists and business people who appreciate art. We are not in the business to exploit emerging artist but to expose their work to as many potential buyers as possible. We do all the work, because we know you are busy trying to create!
Why should I promote my artwork on the internet?
~More and more people shop online each year. Individuals are purchasing homes, cars, clothes and yes art, online. The internet is always working for you. It never sleeps! An online presence coupled; with other avenues of promotion is the winning combination to increase your sells.
Does Contemporary Art Gallery promote artists work anywhere else other than online?
~CAGO publishes an annual catalog that is distributed to design firms, galleries across the country.Our catalog has an ISBN number, so our catalog can be sent to libraries as well. CAGO also participates in some of the largest art shows in the country. These are just a few examples of how we promote your work.
How many works can I display?
~Currently artst are limited to 10 pieces, we however, encourage artist to change out about one third of their art on a quarterly basis. This helps to keep their page looking fresh.
How do I join Contemporary Art Gallery Online?
~Complete the questionnaire by clicking on the link and send 3 to 5 works for our review. It takes approximately a week for a decision. Once you are approved, send as many images, a biography and the administration fee.
Is there a cost to join Contemporary Art Gallery?
~Yes, there is an initial fee. Compared to most of the online art websites, our fees are inexpensive and we supply the secure shopping cart, at NO additional cost to you. We are in the business of promoting your business! We are NOT a warehouse of artist's names. We do not email you every day, week and month trying to sell you something else. The initial membership fee covers the initial set up of the pages that are created to promote you and your artwork as well as advertising. This fee is $275.00.There is a renewal fee that covers advertising and administration costs of $150.00. These fees are subject to change. However; they have not changed in five years.
How do I upload my files?
~You don't!! Send everything to us and we do all the work. We want to make sure you are seen in the best possible light as well as being seen as often as possible.
Why is my bio so important?
~People are not simply buying a piece of artwork – they are buying you! So, it is very important to tell your story. We will interview you on our radio show An Artist Speaks. This is a 30 minute show about you and your art! Share this with potential buyers and collectors. This is one more way, to promote you and your art.

How long does it take to get online, once I'm approved?
~Once approved, it will take 5 to 7 business days to load all your information on the site.
How will I know, I'm active?
~We send you an email, once you're loaded and live.
What does the administration fee cover?
~The administration fee covers the annual maintenance of your work as well as any assistance to you, along with advertising costs.
Is there an annual membership fee?
~After your first year, a membership fee of $150.00 per year will be automatically billed to your credit card. This fee covers your ongoing maintenance of your files and advertising. Contestant winners do not pay the annual membership fee.
Do I need to be able to accept credit and debit cards?
~No, you do not. We are the transactional brokers for you.
How do I collect my money, when I sell a piece of artwork?
~Once you send us the tracking number of the shipment, we will either mail a check to you or send the payment to your PayPal account. We prefer the later!
Are there any additional costs?
~Only when you sell! There is a 30% commission and transactional fee deducted from the sell costs. This covers the credit card terminal fees, administrative costs, advertising and the such associated with the sell. That's it!!